Helmet
All skaters wishing to register in the group CanSkate lessons or who are Adult beginners must wear a CSA certified helmet until they have passed all the requirements of Skate Canada Badge Level 5.
Ice hockey helmets must meet and be certified to the requirements of the Canadian Standards Association (CSA) standard Z262.1. The number of the standard must appear on the helmet; an example of how the number may appear is found below.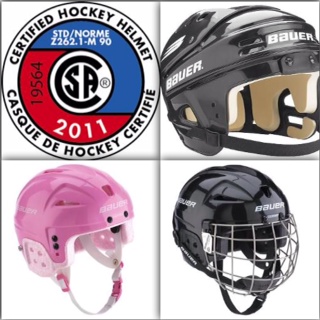 Ice hockey helmets must also display the date of manufacture. Helmets more than five years old should not be bought or sold as the materials used in the helmet may break down with age.
The product should be in good condition, with no cracks, missing padding or hardware. Modifications, such as drilled holes, stickers or re-painting should not have been done.
Ice hockey helmets must have a chin strap.