Images Sur Glace 2023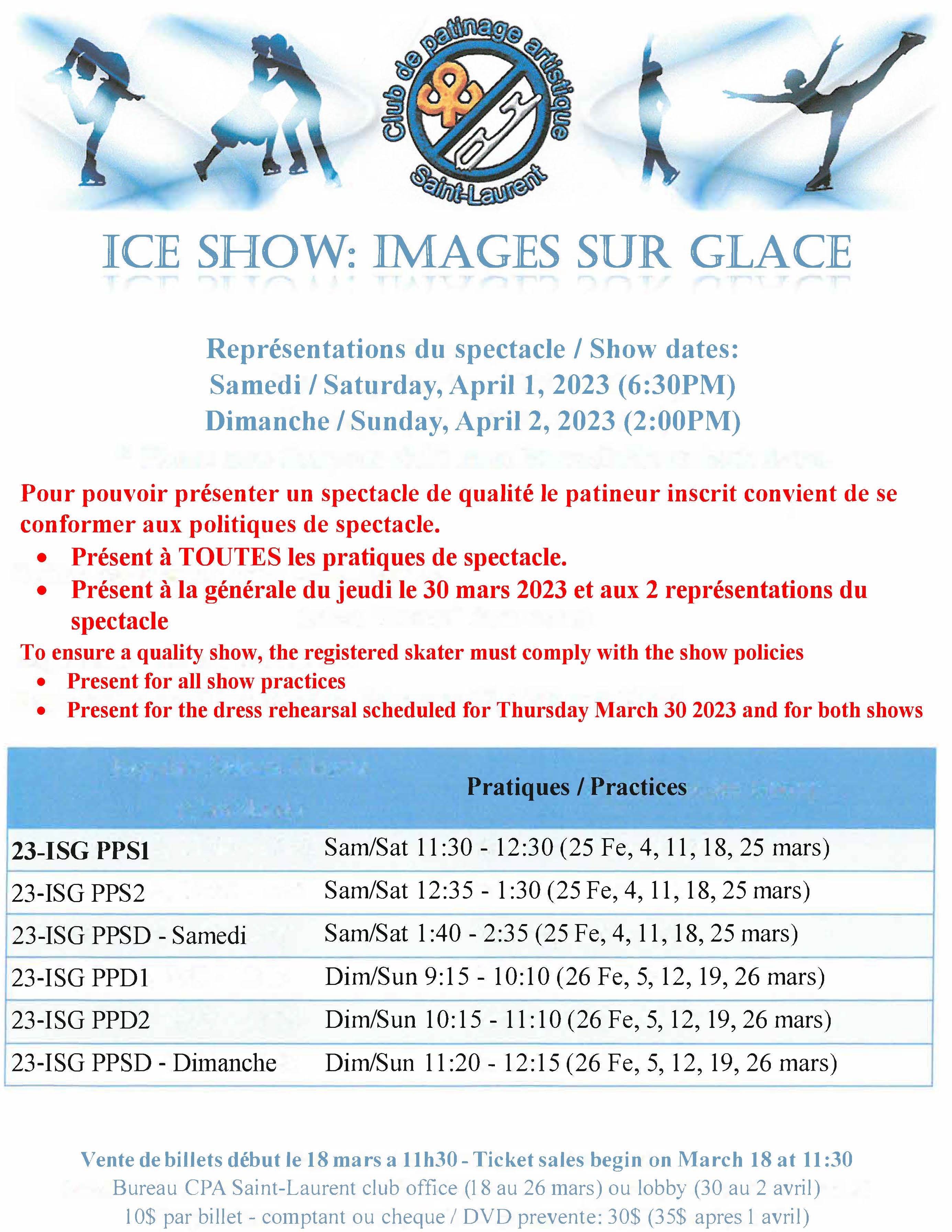 ---
COVID

2022.11.17
Although the pandemic is subsiding, we want to do everything we can to ensure that our skating activity maintains a safe environment for all of our members. Please follow the following recommendations:
Fall - Winter 2022-2023 Registration

(Sept 19, 2022)
The registration period for the Fall-Winter season has closed. It may still be possible to register. Please send an email to the club (cpa.stlaurent@gmail.com) and we will advise if there is still space.
All skaters registered in our skating programs must possess a valid "Carte Loisirs" (at a minimum must be valid until September 30, 2022) to obtain the resident fee rate. The card can be obtained from the centre de loisirs, sports complex or library. (Ref: https://portail-m4s.s3.montreal.ca/pdf/2022_2023programsportsloisirsstl_ang.pdf)
The club reserves the right to make changes to the schedule and impose sanitation measures to limit the spread of COVID-19. We need to work together and take the necessary steps as an organization and as neighbours, we can make a difference.
CPA Saint Laurent
Click here to view the detailed schedule.
Click here to access the registration information page.
NOTE: (2022.08.15)
There is an error in the Fall 2022-Winter 2023 Program published by the borough of Saint Laurent. Admission to the CPA Saint Laurent CanSkate beginner program is available to skaters aged 5 and over and NOT 4 and over..
Skaters aged 3 - 5 can register in the PreSchool Skating Program.
REGISTRATION: Online at loisirs.montreal.ca, starting on September 6 at 8:30 a.m.
INFORMATION: 514-855-6110, ext 4884
---
CLUB UNIFORM
Skaters must wear the club uniform during the PP School sessions. The uniform includes a club sweatshirt, a skirt and tights for girls, a club sweatshirt club and a black or blue slacks for boys.
You can buy the sweatshirts, skirts and tights at CPA Saint-Laurent office. The sweatshirts are manufactured and customized for the club by our long time local suppliers. However, due to additional delays in the supply chain for raw material delivery, we are experiencing delays on our last delivery and are out of stock for some sizes.
Pending the availability of sweatshirts, we ask that the skaters wear the following clothes for the PP sessions:
WHITE or NAVY BLUE sweatshirt

Legging for girls, black or blue pants for boys

And don't forget your gloves!
Sweatshirts have arrived! You can purchase on Saturday or Sunday during class time beginning October 29, 2022.
Thank you for your understanding and cooperation.
CPA Saint Laurent
---
How to Create an Account Online
To watch a short video demonstrating how to create an account online please view the French website. Note: Residents of any of the boroughs of Montreal can use their Montreal Access card.
---
How to Register Video
A video describing the registration process is provided below. We recommend that you view this video BEFORE beginning the registration process.
---
How to view your skaters achievements
Click below to view the instructions on how to view your skaters achievements.
---
How to find your skater's Skate Canada Number
Click below to view the instructions on how to view your skater's Skate Canada Number.
Bottom Content Title
This is an additional section to be able to add content