Uniform Sale
The CPA Saint Laurent Club uniform is mandatory for all skaters registered in PreJunior or CanSkate group lessons.
The uniform can be purchased at our club office located in the Centre de Loisirs Room 105 (1375 Grenet St, Saint-Laurent). Our volunteers will be present in our office MONDAY September 16th OR WEDNESDAY September 18th from 7 PM - 8:30 pm Please bring your child for the fitting. Finale sale, no exchange or returns
Cash or cheque payment will be accepted.
Please note that it will be very difficult to purchase the club uniform the day of your 1st class as we do not have enough volunteers to handle the on ice activities at the Bonaventure arena and office activities at the centre de loisirs at the same time.
Thank you for your understanding.
Kind regards,
CPA Saint Laurent
Fall /Winter 2019-2020

We have received news from our borough which impacts our ice time hours on Monday and Tuesday evenings. We have delayed the registration to Wednesday August 14, 8 pm to allow the skaters and coaches to make modifications to their planned schedules with their coaches and to allow us to complete the programming.

Thank you for your understanding.

CPA Saint Laurent

Pre-Registration (CPA Saint-Laurent Members-Fall 2018-2019) August 14 - 20:00 to August 24 20:00

Pre-Registration discount fees will not apply after the pre-registration period.

General Registration: New Members August 27 -19:00 - September 2, 20:00
The Raymond Bourque Arena will be unavailble during the renovation period. With the collaboration of the borough our volunteer association will be able to continue to offer classes at multiple facilities in the area. The facilities are listed on the complete schedule. A brief summary is provided below.
Pre-CanSkate (4-5 years) - Saturday or Sunday

CanSkate - Saturday or Sunday

Bonaventure

6605 Chemin de la côte de Liesse

PreJunior - Sunday and Tuesday

Bonaventure (Sunday) / CEGEP St. Laurent 625 Ave Sainte Croix (Tuesday)

Adult

Bonaventure - 6605 Chemin de la côte de Liesse

Private

Bonaventure / CEGEP St. Laurent / Sportsplexe -14700 Boul Pierrefonds / Fleury - 3700 rue Fleury Est
---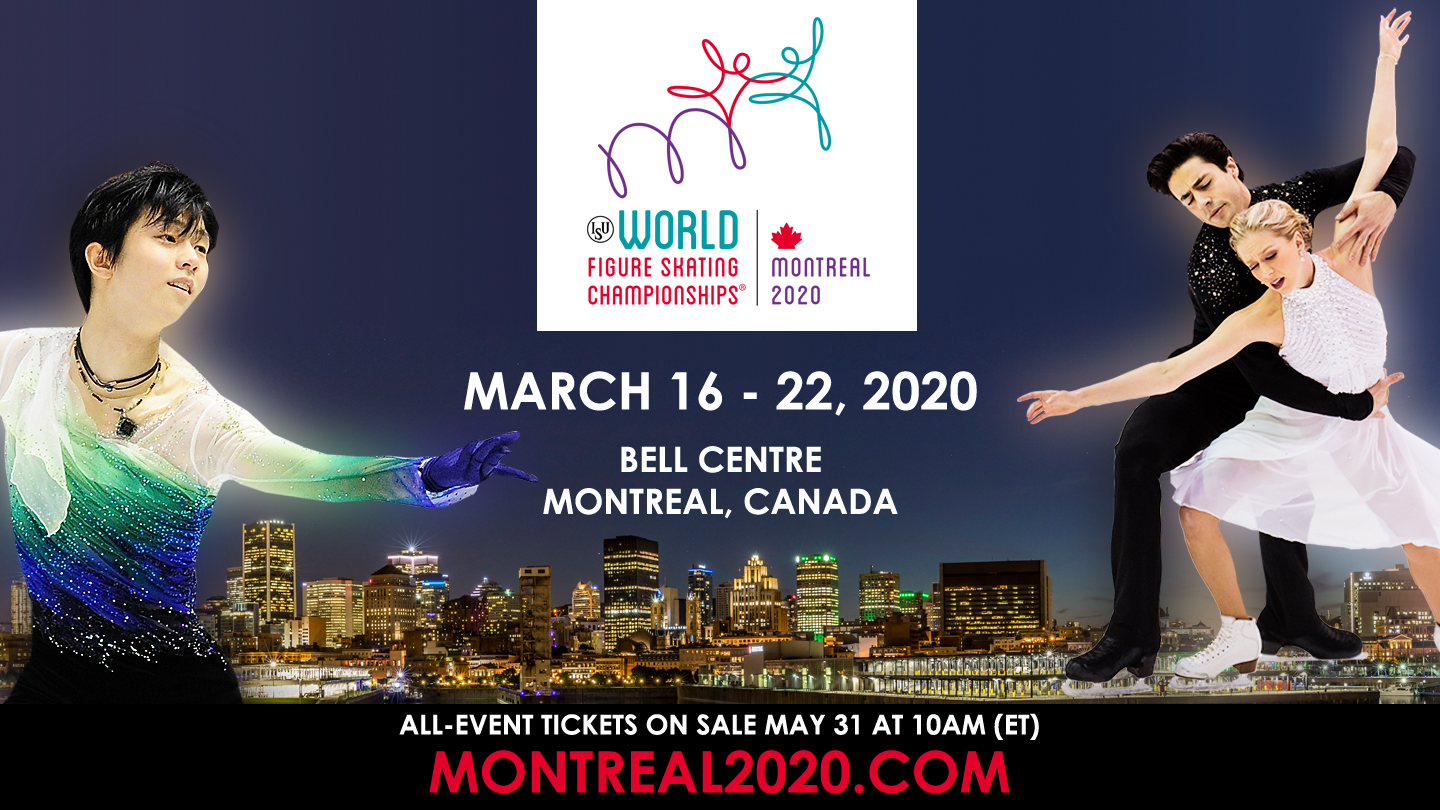 Skate Canada is pleased to announce that all-event tickets for the ISU World Figure Skating Championships ® 2020 will go on sale on May 31, 2019 at 10:00 a.m. (ET). Tickets are available at www.montreal2020.com. The championships will take place next year from March 16-22, 2020 at the Bell Centre in Montreal, Quebec, Canada.
TICKET INFO – All prices are in Canadian dollars
All-event ticket packages will include all competitions, as well as competition practices (excluding gala practice). Fans will be able to choose from six levels of all-event ticket packages located in the 100L and 200L that are priced at:
P5, 200L end sections = $845 ($800 ticket + $45 venue fee).
P4, 100L upper end & 200L side sections = $1,080 ($1,025 ticket + $55 venue fee)
P3, 100L lower end & 200L centre sections = $1,365 ($1,300 ticket + $65 venue fee)
P2, 100L centre sections = $1,675 ($1,600 ticket + $75 venue fee)
P1, 100L rows 4-6 & 100L centre lower bowl = $2,100 ($2,000 ticket + $100 venue fee)
Gold Circle, 100L rows 1-3 = $2,410 ($2,300 ticket + $110 venue fee)
---
Lindt Make a Difference Campaign
CPA Saint Laurent is proud to congratulate Daniel Béland who has been recognized by Lindt as a remarkable passionate individual who is helping to make a difference in the Canadian skating community.
Lindt has recognized Daniel as one of the two recipients of a $10 000 donation which will benefit the CPA Saint Laurent.
Making a difference means giving back. As a young skater, Daniel spent many hours training at our club. His drive and love of figure skating resulted in multiple championships as a competitor at the provincial and national levels. He became the first Canadian World Junior Men Champion in 1977. Another Canadian skater could not repeat this impressive feat for over 37 years.
He has been a coach with our club since 2007. The skaters, coaches, and club are thankful that Daniel is able to share his love of figure skating with everyone, especially our next generation of young skaters. He is truly an unsung hero within the skating community.
The CPA Saint Laurent would like to thank Lindt for their wonderful $10000 donation. This contribution will make a lasting difference in our skater's lives.
Please share your story on : Lindt Make A Difference
---
How to Create an Account Online
To watch a short video demonstrating how to create an account online. Note: Residents of any of the boroughs of Montreal can use their Montreal Access card.
---
How to Register Video
A video describing the registration process is provided below. We recommend that you view this video BEFORE beginning the registration process.
---
How to view your skaters achievements
Click below to view the instructions on how to view your skaters achievements.
---
How to find your skater's Skate Canada Number
Click below to view the instructions on how to view your skater's Skate Canada Number.