News
PHOTO 2019
posted Oct 16, 2019, 11:47 PM
Schedule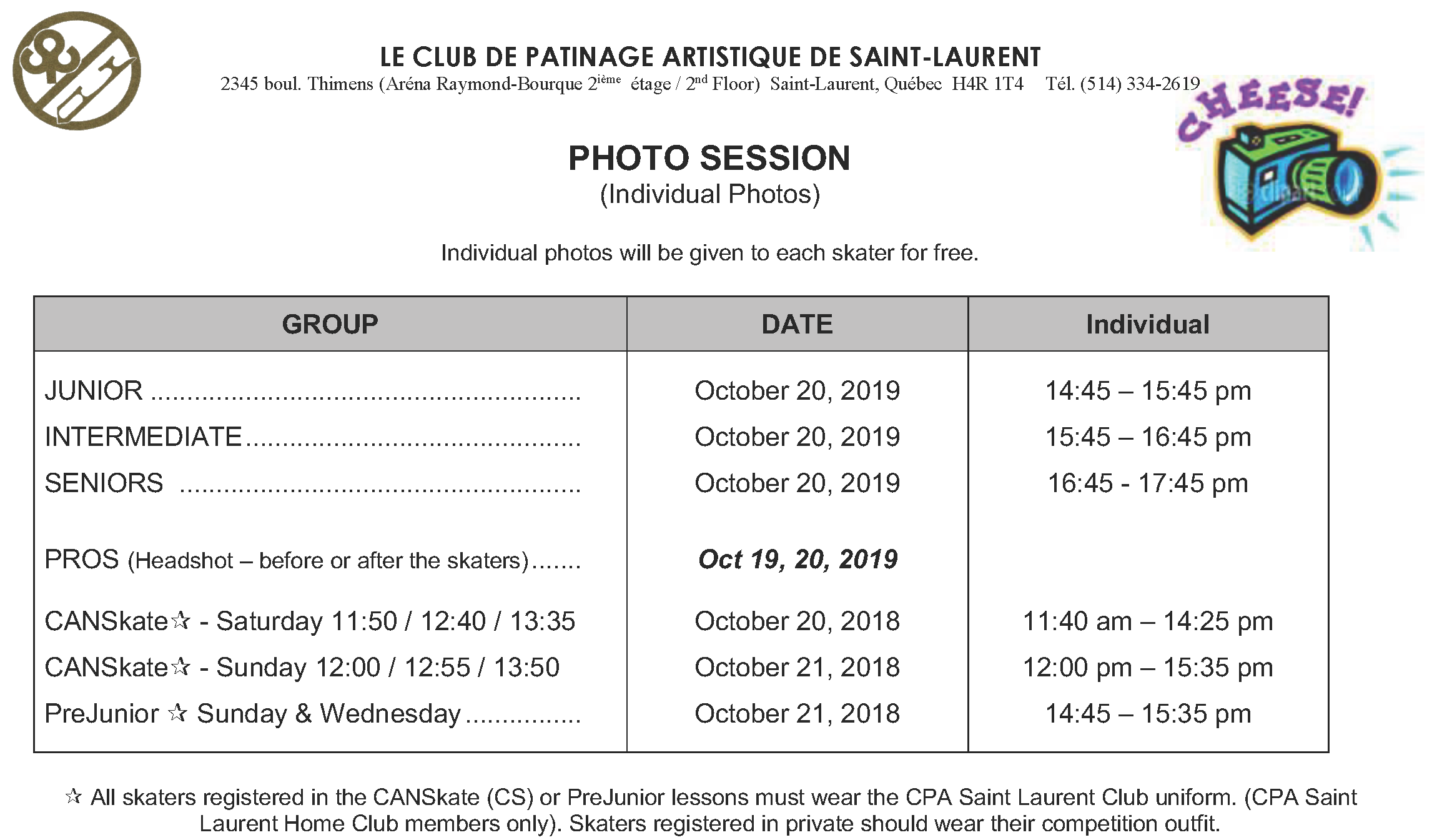 THANKSGIVING CANCELLATION GROUP LESSONS
posted Oct 10, 2019, 6:33 PM
ANNULATIONS/CANCELLATIONS
12 et 13 octobre
Annulation du programmation régulière - aucun cours de groupe
All regular programming cancelled - No group lessons
URGENT - CANCELLATION TUESDAY SEPT 3, 2019 - FLEURY ICE TIME
posted Sep 3, 2019, 2:12 PM
Please note that the ice on Tuesday September 3rd 2019 has been cancelled as the compressors are not functionning at 100% and the ice is not hard enough. The ice will be ready next week.
Thank you
CPA Saint-Laurent
REGISTRATION FALL/WINTER 2019-2020
posted Aug 4, 2019, 6:42 PM
Fall /Winter 2019-2020

Pre-Registration (Members-Fall 2018-2019) August 12 - 20:00 to August 24 20:00

Pre-Registration discount fees will not apply after the pre-registration period.

General Registration: New Members August 27 -19:00 - September 2, 20:00
The Raymond Bourque Arena will be unavailble during the renovation period. With the collaboration of the borough our volunteer association will be able to continue to offer classes at multiple facilities in the area. The facilities are listed on the complete schedule. A brief summary is provided below.
| | |
| --- | --- |
| Pre-CanSkate (4-5 years) - Saturday or Sunday CanSkate - Saturday or Sunday | Bonaventure 6605 Chemin de la côte de Liesse |
| PreJunior - Sunday and Tuesday | Bonaventure (Sunday) / CEGEP St. Laurent 625 Ave Sainte Croix (Tuesday) |
| Adult | Bonaventure - 6605 Chemin de la côte de Liesse |
| Private | Bonaventure / CEGEP St. Laurent / Sportsplexe -14700 Boul Pierrefonds / Fleury - 3700 rue Fleury Est |
---
ANNOUNCEMENT AGM 2019 - JUNE 12, 2019
posted May 8, 2019, 10:54 PM
Announcement : General Assembly 2019
The end of the 2018-2019 season will conclude with the General Assembly which will be held Wednesday June 12, 2019 at 7:30 pm at the sports complexe. Room 505AB.
Looking forward to seeing you at the AGM.
https://www.cpastl.ca/pages/Events/
CPA Saint Laurent
SPRING 2019 - ATTENDANCE, ROOMS
posted May 6, 2019, 4:08 PM
You have registered your child in the CanSkate Program.
We ask you to arrive at least 15 minutes before the beginning of the course. Please present the badge for the spring session to the volunteer in charge. Please go to the designated changing room to put your child's skates.
Halls A and B are not changing rooms. Rooms are allocated to each ice committee. It is important that you use the assigned rooms. The arena administrators post the room assignments at the entrance to the arena and at the entrance of each hallway.
A skater WILL NOT be allowed on the ice without their name tag. In case of forgotten or lost name tags, a fee of $1 will apply.
All skaters must have a CSA certified ice hockey helmet, skates, gloves and wear their CPA Saint Laurent club uniform. Only correctly attired skaters will be admitted on the ice session.
CPA Saint Laurent
SPRING 2019
posted May 1, 2019, 10:06 AM
Spring 2019
Click here for Spring Schedule 2019 v 16Feb2019
Classes begin this week - All classes on Ice B

NOTE: The pro shop is closed for the season. No sharpening or rental services are available.

Prejunior

Adults

PP Samedi




PP Dimanche




Wed May 1 17:05 - 17:50 / Sunday May 5th 12:15 - 13:05

Friday May 3rd 20:55 -21:55

Saturday May 4th

Gr 1 (0-1-2-3)- 11:10-11:55 Gr 2 (4-5-6) - 12:00 - 12:45

Sunday May 5th

Gr 1 (0-1-2-3)- 10:40-11:25 Gr 2 (4-5-6) - 11:30 - 12:15
CANADA GAMES 2019
posted Feb 28, 2019, 5:40 PM

The Special Olympics Men's Level III event closed out the competition Wednesday February 27th 2019 in Red Deer Alberta. Emanuel Boulutfallah of Quebec won gold, followed by Nova Scotia's Scott Denyes and Yukon's Michael Sumner.
"I skated with all my heart and all my passion, and I hope the crowd enjoyed it," said Boulutfallah. "It was such a fun time here."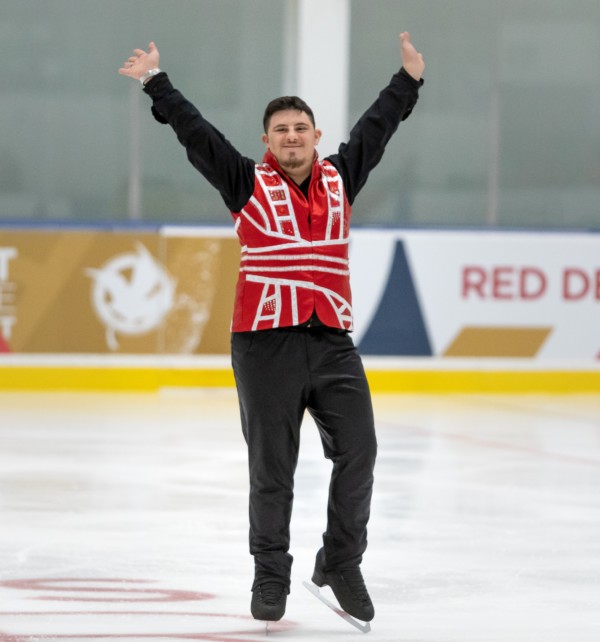 COMPETITION RESULTS
posted Feb 20, 2019, 10:18 AM
REMINDER COMPETITION RESULTS - Deadline Tuesday February 26th, 8:00 pm
All skaters are required to submit a copy of their competition results.
The club recommends that hard copies of competition results be submitted within 7 days following a competition to avoid missing a deadline.
January 6, 2019: Competitions held before December 31, 2018
February 5, 2019: Competitions held between January 1, 2019 and January 31, 2019
Competitions held between February 1st, 2019 and February 25th, 2019: Results must be submitted no later than Tuesday 8:00 PM following the competition.
Hard copies of the result sheets with the name of the competition, name of skater and event highlighted MUST BE submitted no later than the Tuesday 8:00 PM following the competition.
The compilation of solo results takes a significant amount of time and effort and we kindly request everyone's cooperation to please submit their results on time. Only hard copies will be accepted, no faxed, texted or email copies will be receivable.
RESULTS RECEIVED AFTER THE DEADLINE WILL NOT BE CONSIDERED FOR SOLO COMPILATION OR ANY LAUREATS (if held).
SPRING 2019
posted Feb 17, 2019, 3:16 PM
Spring 2019
Registration for the 6 week Spring session:
| | |
| --- | --- |
| Preregistration | March 23 - April 6 (Members registered F/W 2018-2019) |
| General Registration | April 9 -21 (Members and New Members) |
| Late registration | April 22nd - 28th (Members and New Members) |
More information will be posted on the website towards the beginning of March.
CANADA WINTER GAMES 2019
posted Feb 17, 2019, 11:04 AM
Canada Games 2019
Congratulations to Emanuel Bou-Lutfallah who will be representing the CPA Saint Laurent and Quebec at the games which will be held in Red Deer Alberta February 15 - March 3rd 2019.

Featuring 19 sports, over 150 events and a major arts and cultural festival, the 2019 Canada Winter Games will welcome up to 3,600 athletes, managers and coaches and more than 20,000 visitors. The 2019 Games will provide a stage for Canada's next generation of national, international and Olympic champions to compete. The 2019 Canada Winter Games is the 27th edition of the Canada Games and the third time the Canada Games have been hosted in Alberta.
---
PROVINCIAL SECTION B CHAMPIONSHIPS 2019
posted Feb 8, 2019, 12:02 PM
Provincial B Championships - Quebec Section 2019
The Provincial B Championships for the Quebec Section of Skate Canada were held in Sherbrooke January 31 to February 3rd.
More than 400 young skaters from throughout Quebec participated in this competition in the Sans Limites to Juvenile levels with the goal of being crowned Quebec Champions in their category.
Congratulations to Earl Jesse Celestino and his partner Auréa Cinco-Debout who earned the silver medal in the Pre-Juvénile Dance A category.
Congratulations to Kiara Athena Delloye, Kenya Leilani Delloye and Georgy Sader who proudly represented the CPA Saint Laurent.