CanSkate - You CAN learn to SKATE!
The CANSkate program is a learn-to-skate program. It is offered in a group lesson format. This is the basic learn to skate program that teaches the required full range of fundamental skating skills. The program is structured into 6 levels. A CANSkate skater takes one lesson a week. Our CANSkate program is open to skater 5 years of age and older.
Each CANSkate session starts with the whole group doing a warm up of stretches and then the students break into their groups. Each group is usually composed of skaters working on a particular badge level. When a new session starts, skaters are assessed on their skating level and assigned to an appropriate group.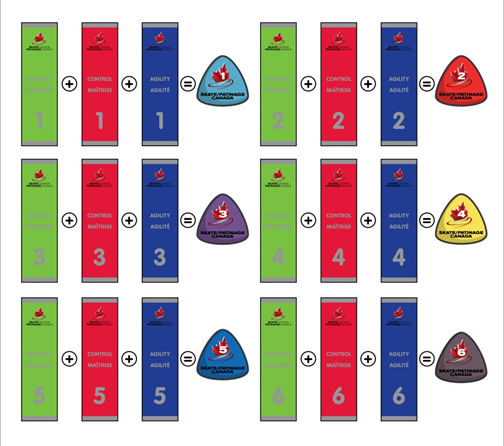 Lessons are structured to teach the required skating skills in a fun and enjoyable manner. Many skills are turned activities that are fun while learning to skate at the same time. Over the course of a session the coaches will continuously evaluate the progress of the students.
The CanSkate program teaches basic skating skills, like skating forward and backward, stops, turns, spins and jumps. In small groups, skaters learn skills through fun activities and by continually moving on the ice. Our certified coaches frequently assess skills and hand out awards to various skaters to congratulate them for their participation. Skaters also receive a badge for each level successfully completed.