STAR 1-5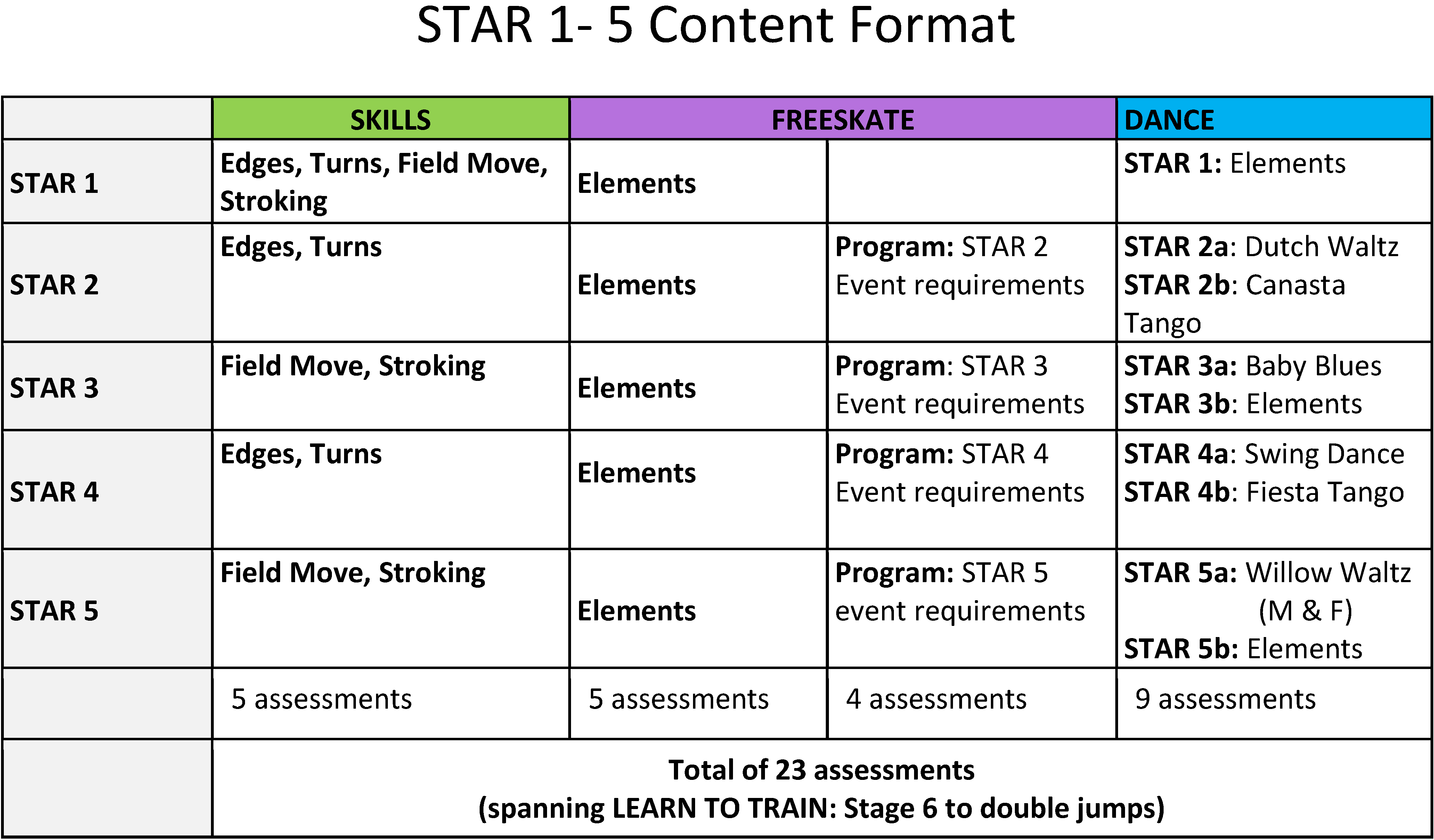 STAR 1-5 Assessment Philosophy
STAR 1-5 is an "introduction" to figure skating. Skaters entering the program should be able to perform all skills in the CanSkate Stages 5 & 6. The sport of figure skating has a strong technical focus. It takes time for skaters to develop the skills necessary to be proficient at certain techniques. The STAR 1-5 program is designed to allow skaters to follow the Pathway of Development and be recognized for achievement at the various stages. A "continuum of development" has been developed for the STAR 1-5 level skater that fits into the broader pathway of development for LTAD.
Continuum of Development (to be read right to left)

Advanced Stage of Development

Moderate Stage of Development

Early Stage of Development

Skills are confident and fully acquired.

Technique is still being honed. Skills are completed. Power is being introduced.

Concepts are being introduced. Technique is being taught. Skills are recognizable and have room to grow.
When Can Coaches Assess?
As with the CanSkate program, coaches are expected to spend an appropriate amount of time concentrating on the actual teaching and development of skills before assessingSkaters should only be assessed when ready. There is no need to rush or push assessment, as coaches may assess their skaters at any time throughout the training season. There are no limitations to the frequency of assessments, nor the number of skaters that may be assessed in the STAR 1- 5 Program.
Example:
September to November

Generally, a busy time with skaters returning after a long break, programs (solos) to be built, review of learned skills and the introduction of new skills.

December to March

Generally, skaters are more organized with skills and program readiness. Work is being done on performance and skill acquisition.

Time spent on skill acquisition, program development (solos) and performance readiness

Coaches may find that this time period is optimal for assessments as they can be performed at any frequency in the training schedule.
Which Assessments Will Be First?
STAR 1 Skills and Freeskate are designed to be the first assessments skaters will achieve. These assessments focus on building a strong foundation for skating techniques that will continue to be developed along the pathway. STAR 1 Dance contains dance steps that require more technical ability and will most likely take longer to develop.
Progression pathway for the typical skater:
Skills

STAR 1

Free Style

STAR 1

Skills

STAR 2

Dance

STAR 1

Free Style

STAR 2

Elements

Dance

STAR

2a 2b

Skills

STAR 3

Free Style

STAR 2

Program
The order of evaluations may vary slightly to accomodate the needs of the skater.
STAR 1-5 Test Elements